How Much Did Floyd Mayweather Earn for his WWE Debut at WrestleMania 24
Published 05/12/2021, 2:11 PM EDT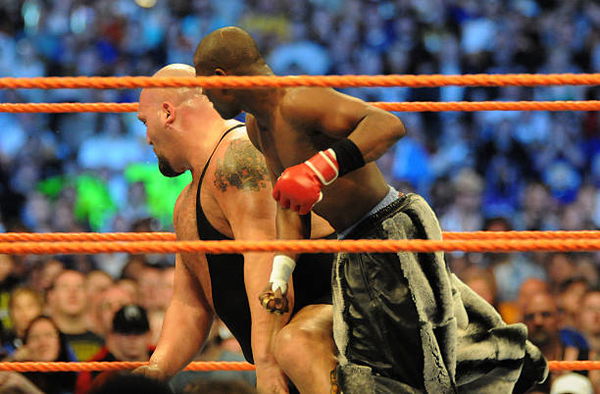 ---
---
In 2008, one of the biggest sport icons in the world stepped into a WWE ring. Floyd Mayweather is one of the greatest boxers of all time, and he followed in the footsteps of prior legends. Like Muhammad Ali and Mike Tyson, Mayweather too stepped into the ring with a WWE icon.
ADVERTISEMENT
Article continues below this ad
Floyd Mayweather made his WWE debut in 2008
ADVERTISEMENT
Article continues below this ad
At the 2008 No Way Out PPV in Las Vegas, Nevada, Floyd Mayweather sat at ringside. Also appearing on the PPV was the Big Show, who returned from injury. He bragged about dropping 108 pounds and revealed his plans of becoming champion again.
Mayweather caught his eye, and the giant began taunting the boxer. Show realised the way to get Mayweather in the ring would be to attack Rey Mysterio, Mayweather's friend.
As Show threatened to chokeslam Mysterio, Floyd jumped over the barricade and confronted Big Show. The giant went down on one knee, mocking Mayweather's size, only to get a bloody nose from Floyd's quick punches.
This altercation led to a huge match at WrestleMania 24. Floyd Mayweather, one of the best boxers in the world against the Big Show, the World's Largest Athlete.
While the match had disaster written all over it, it over-delivered and ended up being one of the best celebrity matches in WrestleMania history.
According to ESPN, Mayweather received a $20 million paycheck for his match with the Big Show. He took down an opponent three times his size and Show carried a boxer to an excellent pro wrestling match.
Boxing superstars in WWE
ADVERTISEMENT
Article continues below this ad
Over the years, we've seen many crossover appearances in WWE. From soccer icon Wayne Rooney slapping Wade Barrett to Mayweather knocking out Big Show, seeing professional athletes in a WWE ring represents WWE's expansion. As for boxing legends, we've seen quite a few of them.
Muhammad Ali, possibly the greatest boxer of all time, appeared at WrestleMania I, where he was the guest referee. Soon after, we saw Joe Frazier, who portrayed Mr. T's manager for his boxing match against Roddy Piper.
ADVERTISEMENT
Article continues below this ad
Perhaps the most iconic boxer to step foot in a WWE ring is 'Iron' Mike Tyson. The Baddest Man on the Planet portrayed the guest enforcer for Shawn Michaels vs Stone Cold Steve Austin's WWE Championship match at WrestleMania 14. He not only counted the pinfall for Austin but also knocked HBK out cold.