VIDEO: MJF Threatens to Throw Chris Jericho off the Roof, The Inner Circle Loses to The Pinnacle on AEW Dynamite Blood & Guts
Published 05/05/2021, 10:53 PM EDT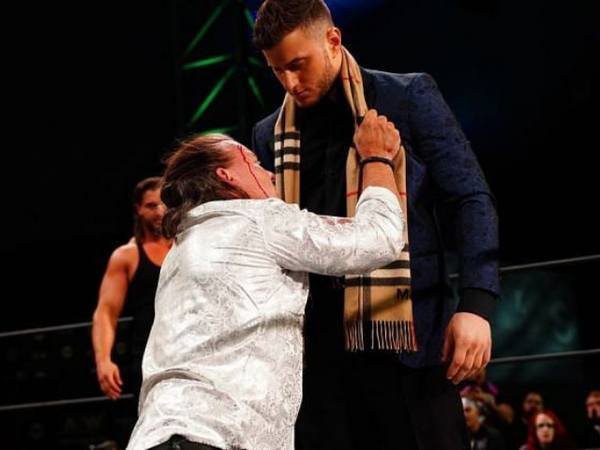 ---
---
The Pinnacle and Inner Circle's feud has taken the AEW fans with storm. Each week, we see a new and exhilarating turn in their rivalry.
ADVERTISEMENT
Article continues below this ad
Finally, on May 5, 2021, the factions concluded their feud in the highly awaited Blood and Guts match.
Sammy Guevara and Dax Hardwood started the match. Soon, all the members of both the sides got their chance to dominate in the steel cage. Finally, it came down to Jericho and MJF.
ADVERTISEMENT
Article continues below this ad
Jericho and MJF took the match to the roof of the steel cage. Both of them tried to get the other one to submit. There was a point when Jericho had applied the walls of Jericho on him, and MJF kept punching Jericho with his AEW Dynamite Diamond ring.
However, MJF overpowered Jericho and held him at the edge of the steel cage's roof. He told the other members of The Inner Circle to surrender to him or he will throw Jericho off the roof.
The others obliged and surrendered to MJF and The Pinnacle.
Results: The Pinnacle defeated The Inner Circle.
There's no saying if the feud will continue on AEW. Considering it captivated the audience, there's no saying if the company will keep moving this feud forward.
The battle of the factions might continue on AEW
Chris Jericho's The Inner Circle has been in a feud with MJF's The Pinnacle since the time MJF betrayed Jericho. In fact, MJF had tried to take over The Inner Circle's locker room. Unfortunately for The Pinnacle, Jericho and co. brutally attacked them and shoved MJF's head in the toilet.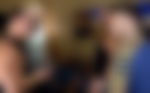 On another episode of AEW Dynamite, MJF vowed to pick apart The Inner Circle and destroy it. In that same episode, Jericho accused MJF of trying to take his spot by force.
He claimed MJF wanted the top position but didn't want to put in the required efforts.
Coming back to the results of The Blood and Guts match, there might be more moving forward.
ADVERTISEMENT
Article continues below this ad
On the other hand, Chris Jericho is known for putting over younger talent who deserve a push. He did it with Orange Cassidy.
It's possible Jericho is trying to put over MJF, and hence, the storyline progressed with The Pinnacle defeating The Inner Circle.
Only time will tell what happens next with the two factions.
ADVERTISEMENT
Article continues below this ad
Do you want to see more clashes between The Pinnacle and The Inner Circle on AEW Dynamite? Let us know in the comments below.